"Probably the most interesting part of design history are the objects' biographies."
I'm googling images of Alfo photo camera, designed in 1958-59 by Jan Krzysztof Meisner and Olgierd Rutkowski. I find the best ones on a page of one of the Polish museums. Shining device seems to be hung on the white background. Similar pictures are shown by an auction house that sold the Polish design icon for 1600 zloty. Something is off, however. This quirky, colourful camera for photography amateurs wrapped in plastic and wavy aluminium looked differently! I keep on searching.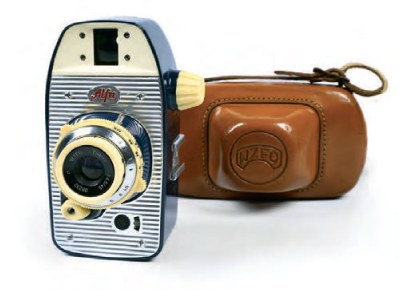 Photos found on e-commerce pages seem much more interesting. I can see scratches or decaying leather case. Or yellowed and stained plastic. I dream of finding a picture of the camera from the 60s taken during a vacation on the beach, during a birthdays or prom party. The task is a tough one, because it's the camera that took pictures and accompanied Poles in their lives. Probably the most interesting part of design history are the objects' biographies. If the design is good and the implementation reliable an object can accompany us for a long time. It interacts with the user, creates everyday rituals, co-exists with other objects. It evokes emotions, breaks down, fails, or helps coping with everyday tasks. It is handed over, makes the owner proud, nostalgic, carries memories. Designer creates a thing and plans its future. Tries to foresee what the user will do with it, what use it will make. Designer considers also possible bad scenarios– what happens if the object falls from a heigh, or the user fails to handle it. He tries to limit the consequences of these little catastrophes. More and more designers regard today also what happens after the object has ended its life cycle. How to produce and utilize it without creating environmental damage?
"If the design is good and the implementation reliable an object can accompany us for a long time."
Not all objects make it into design history, are bought by museums and private collectors like the Alfa camera. Most of them end up forgotten, unneeded, outdated. Technologies, tastes and needs change. However, many well-designed things accompany us long after they ceased to be useful. They carry memories of previous technologies or customs. As memoirs of little functional value, they present a part of history. They demonstrate a specific mix of tastes, customs, needs, aspirations, and financial capabilities of a certain time.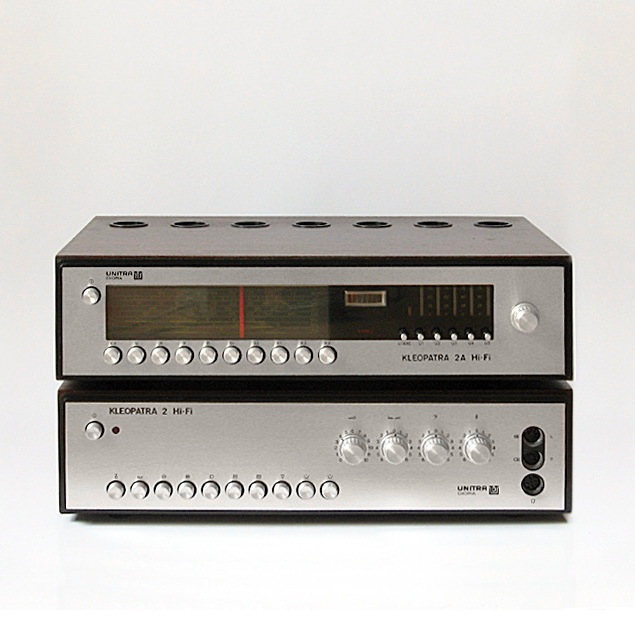 Amplifier and tuner,
produced by: Unitra;
designed by: Grzegorz Strzelewicz
Among the designs that were created in the imagination and on drawing boards of the members of the Association of Industrial Designers, there are many memory boxes encompassing both individual and collective memories. They embody moments of Polish economic and social history. Alfa symbolizes time of political thaw of the 50s, when production of attractive consumption goods addressed at young people began. When tourism experienced boom and society eagerly engaged in amateur photography. Along the same lines Meisner together with Krzysztof Bruno, Jerzy Jankowski and Tadeusz Mathia designed Osa M50 scooter that was produced in 1959. Photography equipment for both amateurs and professionals designed by Wojciech Wybieralski in 70s, tells the story of emerging technologies, taste for professionally looking devices, about designer's ethos to create things that solve problems, not only stylize things to be more attractive. Radio receivers designed in the late 70s by Grzegorz Strzelewicz are strictly linked to stories of Polish audiophiles, that put them among their books and relished jazz music in the best possible quality.

Many designs like visual information system of the first Warsaw underground line, designed in 1983 by Ryszard Bojar and Roman Duszek plays its role until this day. It harmonizes with ever changing context, similarly to the architecture which is also a part of design history. Therefore, instead of looking at objects placed in the white background, it is better to perceive them within their contexts of national history and individual biographies.